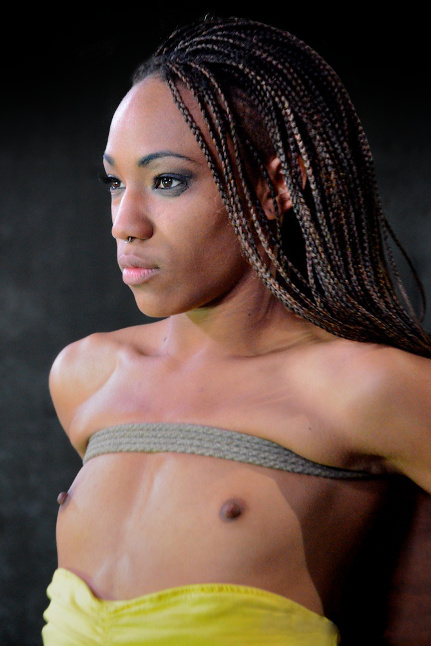 Nikki Darling
Nikki Darling is a slim ebony goddess weighing in at a bit over 110lbs. This is a perfect match for her 5' 3" frame and 32A cup tiny tits that ache to be sucked on and punished. Nikki is a flexible, fit bodied show off with a fabulous, shaved snatch and magnificently puckered butthole that begs for anal insertions of all manner.

We love putting her through her paces like the sexual thoroughbred she is. These include scintillating scenes with sadistic Elise Graves, submissive Cadence Cross, and pussy powerhouse Jessie Parker. Add in some vigorous fucking and sucking with both Matt Williams and Cyd Black, and it is clear that Nikki Darling is a high-powered professional sex fiend that knows no limits — but enjoys strict bounds, bonds and ties.

Perhaps "enjoy" is not the right word to describe how this ballet dancer delights in submitting. She offers up her throat for a willing skull fucking session and thorough ball cleaning with her plush lips. Flexibly bending with ease into the most bizarre positions you can imagine, Nikki Darling presents her pussy and delicious little asshole to those who are able to take charge.

It is a task to be embraced, because submissive Nikki Darling has a defiant, "I can take anything" attitude. In one of our favorite shoots starring Nikki, we put her in a challenging predicament with Bella Rossi. Bella is suspended upside down. Nikki is restrained to a box with rigid metal restraints. Nikki's legs, which hang off of the box are tied to Bella's dangling neck. Nikki must use her abdominal muscles to keep from choking poor Bella. Matt Williams and Jack Hammer try to test Nikki's will with caning and tickling, but in the end, only the addition of a heavy weight to her feet can leave her begging for the torture to end.

An athletic beauty, Nikki Darling is a magnet for men who want to see her eyes flash with fire and the drool flow from her mouth onto her dark nipples as she gasps for mercy from the unrelenting orgasms she endures. Like a good little trooper, she always comes back for another round and her audience of voyeurs are always treated to the best.
Nikki Darling is one of the most versatile submissives we've ever encountered. Her pain tolerance and flexibility are amazing, and her sexual appetite is insatiable.

Her previous bondage and rough sex (BaRS) live show was supremely satisfying for all.
We have not been able to get enough of this girl, so our Nikki Darling rough-sex libary is extensive:

1, 2, 3, 4, 5, 6, 7, 8, 9.

Of course Nikki's affinity for BDSM and device bondage is something you don't want to miss:
1, 2, 3, 4, 5.
36 NIKKI DARLING MOVIES

Back for More Part 3
Nikki Darling


realtimebondage.com - 2016-12-10




Buy: 18.99 credits







Back for More Part 2
Nikki Darling


realtimebondage.com - 2016-11-26




Buy: 18.99 credits







Back for More Part 1
Nikki Darling


realtimebondage.com - 2016-11-19




Buy: 18.99 credits







Nikki Darling Destruction continues in part 3 of Septembers LIVE show. Epic deep throating!
Matt Williams Sergeant Miles Nikki Darling


sexuallybroken.com - 2016-10-17




Buy: 5.99 credits







Nikki Darling gets plowed from both ends with huge cock. Helpless and cumming, rough face fucking!
Matt Williams Sergeant Miles Nikki Darling


sexuallybroken.com - 2016-10-10




Buy: 4.99 credits







Nikki Darling is throat overloaded as two big cocks face fuck her into subspace. Metal Bondage.
Nikki Darling


sexuallybroken.com - 2016-10-03




Buy: 4.99 credits







Cuntorted
Nikki Darling


infernalrestraints.com - 2016-07-29




Buy: 19.99 credits







Athletic, Slender Slut Fucked From Both Ends in High Heels and Made to Cum Multiple Times!
Dee Williams Matt Williams Nikki Darling


sexuallybroken.com - 2016-07-20




Buy: 6.99 credits







Nikki Darling Hogtied and Fucked by Couple With Massive Squirting Orgasms!
Nikki Darling Matt Williams Dee Williams


sexuallybroken.com - 2016-06-10




Buy: 9.99 credits







Simmered Suffering
Matt Williams Nikki Darling Jack Hammer


infernalrestraints.com - 2015-07-31




Buy: 19.99 credits







Tough Love Part 3
Nikki Darling Abigail Dupree


realtimebondage.com - 2015-03-21




Buy: 18.99 credits







Tough Love Part 2
Nikki Darling Abigail Dupree


realtimebondage.com - 2015-03-14




Buy: 18.99 credits







Tough Love Part 1
Nikki Darling Abigail Dupree


realtimebondage.com - 2015-02-28




Buy: 18.99 credits







Blabber Mouth Part 3
Bonnie Day Nikki Darling


realtimebondage.com - 2015-02-21




Buy: 18.99 credits







Blabber Mouth Part 2
Bonnie Day Nikki Darling


realtimebondage.com - 2015-02-07




Buy: 18.99 credits







Blabber Mouth Part 1
Bonnie Day Nikki Darling


realtimebondage.com - 2015-01-31




Buy: 18.99 credits







The Little Whore That Could Part 2
Nikki Darling Jack Hammer


infernalrestraints.com - 2015-01-16




Buy: 19.99 credits







[Archive] Pain and Pleasure
Elise Graves Nikki Darling


topgrl.com - 2015-01-12




Buy: 17.99 credits







The Little Whore That Could Part 1
Nikki Darling Jack Hammer


infernalrestraints.com - 2015-01-09




Buy: 19.99 credits







Toned dancer Nikki Darling strictly shackled and throat trained by 2 hard cocks, brutal deepthroat!
Matt Williams Nikki Darling Jack Hammer


sexuallybroken.com - 2014-09-08




Buy: 9.99 credits







Franken-Pussy Part 3
Nikki Darling Daisy Ducati


realtimebondage.com - 2014-09-06




Buy: 18.99 credits







Franken-Pussy Part 2
Nikki Darling Daisy Ducati


realtimebondage.com - 2014-08-30




Buy: 18.99 credits







Sexy Nikki Darling squirts her brains out on a fucking machine and brutally facefucked by 2 cocks!
Matt Williams Nikki Darling Jack Hammer


sexuallybroken.com - 2014-08-27




Buy: 9.99 credits







Franken-Pussy Part 1
Nikki Darling Daisy Ducati


realtimebondage.com - 2014-08-16




Buy: 18.99 credits







My Time In The Barrel
Elise Graves Nikki Darling


hardtied.com - 2014-05-14




Buy: 16.99 credits







Gravity Part 2
Nikki Darling


realtimebondage.com - 2014-03-22




Buy: 18.99 credits







Gravity
Nikki Darling Matt Williams


realtimebondage.com - 2014-03-08




Buy: 18.99 credits







Jingle Sluts Part 3
Cadence Cross Nikki Darling


realtimebondage.com - 2014-03-01




Buy: 18.99 credits







Jingle Sluts Part 2
Cadence Cross Nikki Darling


realtimebondage.com - 2014-02-22




Buy: 18.99 credits







Jingle Sluts
Cadence Cross Nikki Darling


realtimebondage.com - 2014-02-08




Buy: 18.99 credits







Strappado Stress
Nikki Darling


hardtied.com - 2013-11-27




Buy: 19.95 credits







Two girls, Brutal Bondage, Extreme Throat Fucking, Massive Orgasms, Pussy Licking and Fucking!
Jessie Parker Nikki Darling Matt Williams


sexuallybroken.com - 2013-07-19




Buy: 9.99 credits







Tiny 95lb classically trained dancer, roughly deep throated, brutal fucking. Completely cum drunk!
Nikki Darling Matt Williams Jack Hammer


sexuallybroken.com - 2013-05-03




Buy: 9.99 credits







Classically trained dancer, manhandled by two cocks. Brutal deep throat, rough orgasms, fucking!
Nikki Darling Matt Williams Jack Hammer


sexuallybroken.com - 2013-04-08




Buy: 8.99 credits







Classically trained dancer severely bent, skull fucked, pushed air tight! Brutal fucking, cumming!
Matt Williams Nikki Darling Jack Hammer


sexuallybroken.com - 2013-03-20




Buy: 9.99 credits







Play Thing
Nikki Darling


infernalrestraints.com - 2013-02-08




Buy: 19.99 credits