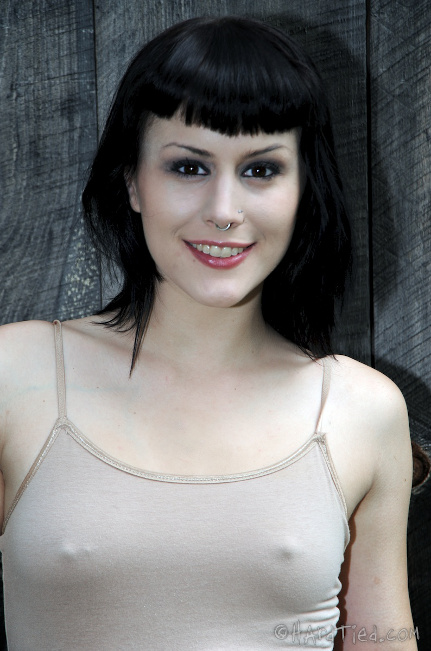 Katharine Cane
A California girl from sunny Santa Cruz, Katharine Cane is a black haired beauty standing 5 foot 6 inches tall and weighing 120 pounds, her 34B-25-38 figure perfect for fucking. With both of those 34B's pierced as well, Katharine Cane offers a tantalizing titty treat for hungry tongues to lap up — and the fun does not stop there, as her sweet clit is posted for delight with its own steel piercing. Those lucky enough to taste her tangy twat will want to spend a moment reading some of Katharine Cane's favorite poetry, which she has tattooed in a long scroll cascading down her supple back.

They say that a picture is worth a thousand words, however, and a video is worth a thousand pictures, so a trip to Insex On Demand will tell you all you really need to know about Katharine Cane's beliefs: suck, fuck and cum on demand. Those demands can be remarkably intense, such as when innocent little ballerina Katharine Cane is expected to dance on her tippy toes before being fed a fat cock and then tied to a wall for a good flogging and shocking, followed by a savage caning that will leave red marks of rage across her silky skin.

If you want to see some of Katharine Cane and her wicked ways for yourself, then Insex On Demand gives the goods, with a dozen clips featuring this naughty girl simmering in her own sweat and slobber, which flows freely. For example, one clip, from Real Time Bondage features Katharine immobilized in a black rubber sleep sack that only opens to allow the insertion of a vibrator or to bare her toes for shocks and caning. Another clip from her first shoot on Hardtied, reveals how she responds to sitting on a dildo and then being deep throat poked by cock in a mix of pussy cream and breath-play that makes her eyes water as much as her pussy. The rest you will have to see for yourself once you venture inside!

12 KATHARINE CANE MOVIES